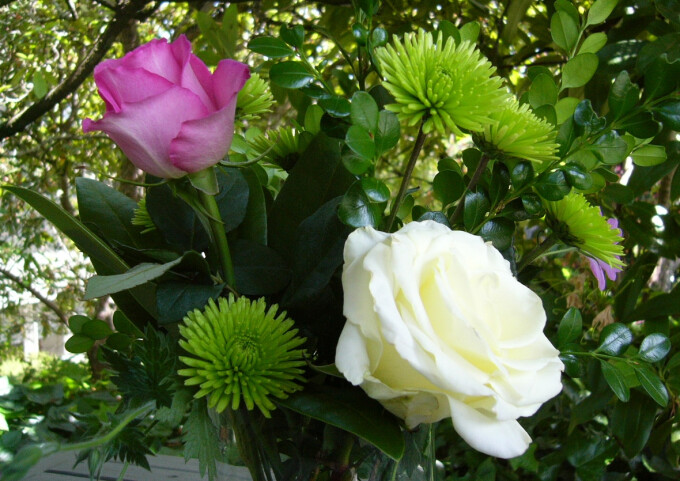 By Barbara Swartling
Dear sisters and brothers in Christ at Bethany,
If you've taken a look at our Northwest Washington Synod website, or spoken recently to anyone who attended the recent Synod Assembly, you have already learned the "big news" that Pastor Shelley Bryan Wee, currently serving as assistant to Bishop Kirby Unti, has been elected to become our next bishop. However, over the three days' gathering at the Lynnwood Convention Center, much more happened!
Seated at round tables in the convention hall (Pastor Paul loved that!), we had the opportunity to meet and share stories with voting members from other congregations in our synod. We shared in worship with the more than 400 voting members and guests who were present. We visited the displays presented by our ministry partners - social ministries, colleges and seminaries, and advocacy organizations supported by our synod and congregations – learning from those who serve and volunteer in those ministries. We also attended to the business of our synod: adopted a budget for the next two fiscal years; elected new members of the Synod Council, Committee on Discipline, and Consultation Committee; and adopted resolutions, several of which will join our synod's voice with others in the ELCA to bring matters of social justice to the attention of the ELCA Churchwide Assembly in August.
Our Churchwide Representative, the Rev. Kevin Strickland (ELCA Executive for Worship in the Office of the Presiding Bishop), did double duty. He gave the report of the Churchwide Organization, including a video highlighting the work of the wider church. More significantly for our synod, he also presided over the call process which, through prayerful discernment and four successive ballots, elected our new bishop. We were blessed to have someone with Kevin's gifts to guide and accompany us in this work.
Special thanks to those from Bethany who participated in this Assembly: Laurie Stumme-Diers at the World Hunger table; Alice McCain at the Lutheran Peace Fellowship table; the Rev. Paul Stumme-Diers as Election Chair; David Swartling as Chair of the Bishop Nomination and Election Task Force; and my fellow voting members Jim and Veronika Rohrscheib. Thank you for your prayers and support.
- Barbara Swartling