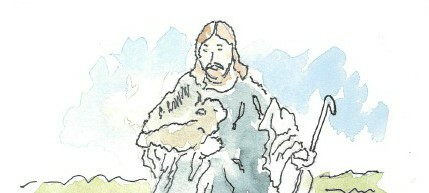 Greetings,
The annual meeting is Jan. 27, and now is the time to read the annual report, so that you will be prepared to make important decisions. Please bring your copy to church that Sunday, so we can keep copying costs to a minimum.
The report contains messages from leaders ranging from Pastor Paul Stumme-Diers all the way up to ELCA Presiding Bishop Elizabeth Eaton. If you didn't receive yours in your email last week, contact the office and we'll send you one.
One of the most important parts of the annual report are the financial pages. You'll see the proposed budget for 2019 that will be voted on at the Jan. 27 congregational meeting. And, you'll see giving trends over recent years.
The cover features fresh artwork by Cindy Heine, a pen-and-watercolor drawing titled "The Shepherd," pictured out front here on the site.
Rachel Pritchett, office administrator