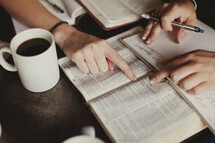 Good Thursday morning,
Happening on Sunday, Sept. 22, is the debut of "Prayer Partners." I've seen the preparation for this program taking place in past weeks, and I can't wait to see it in action.
Child and Family Coordinator Allison Pringle has paired each Sunday School student with an adult mentor. They will gather after worship in the fellowship hall. A special room has been made up downstairs for future times. Be sure to take a look. Also, if you would like to be a prayer partner to help our young ones learn to pray, contact Allison here at church.
- Rachel Pritchett, office administrator