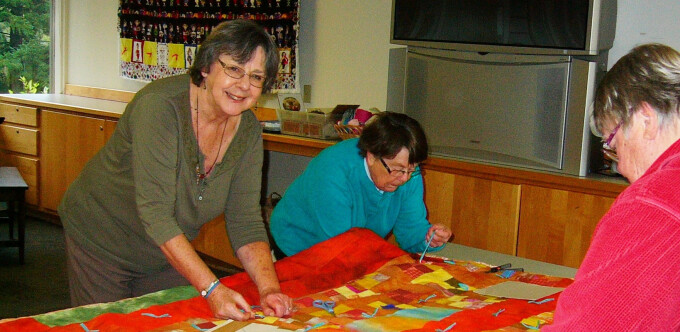 Greetings after an absence. Bethany's Baby Kit Committee seeks donations so that it again can assemble baby kits to send on to Lutheran World Relief. These kits contain necessary items such as flannel diapers and clothing. The list is below. Please bring your items to church over the coming several weeks and place in the cradle by the library. Thank you. Pictured are members of the Baby Kit Committee.
- Rachel Pritchett
CLOTHING/BLANKETS
(Items may be new or gently used. Gender-neutral preferred;
no patriotic/religious/ military type symbols, or camouflage print.)
Baby socks: 6-24 months
Nighties: 6-24 months; must be open at bottom
J.s/sleepers without feet: 6-24 months; if they have feet we will cut them off and finish the edges
Tee shirts: 6-24 months; long or short sleeves
Onsies: 12-24 months; we will cut snaps off and finish the edges to convert to tee shirt
Jackets/sweaters with or without hoods: 12-24 months; fleece makes a good weight
Hats: needed for jackets/sweaters without hoods
Receiving blankets: medium weight cotton/flannel/fleece or crocheted/knitted with lightweight yarn up to 52" square.
FLANNEL YARDAGE AND/OR FLEECE
OTHER
Hand towels: dark colors preferred
Dove or Ivory bar soap: bath size bar (4.0 - 4.5 oz.) in original packaging
Cash donations: We will do the shopping for you! Checks can be made out to Bethany Lutheran Church Rachel Circle or Bethany Lutheran Church with "Rachel Circle"' noted in the memo line.
Thank you for your help with this wonderful baby care project! Together we can make a difference!