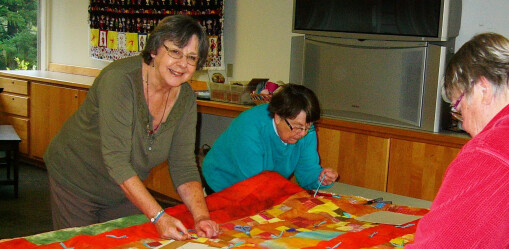 By Alice McCain, Bethany member, pictured
Holden Village near Lake Chelan, Wash., is a retreat center with a long history of Lutheran hospitality and sharing. When I heard that Holden Village needed quilts for extra-long twin beds at Holden in time for their summer 2017 season, I asked other Rachel Circle members for their support in making quilts to donate.
They said "yes" and helped submit a request to the Bethany Endowment Fund for assistance in buying needed supplies to complete the quilts.
Because of the Endowment Fund's donation of $200, we were able to complete the quilts in time for Pastor Paul to deliver the quilts to Holden Village on Memorial Day weekend.
We picked fabrics from the Rachel Circle "stash" in the church basement. We chose easy-to-assemble patterns for four quilts, cut and sewed the quilt tops and backs, and then purchased batting and tying thread using grant money. During two Rachel Circle Tuesday morning sessions the tops, backing and batting were sewn together and tied by Rachel Circle members and friends. On the back of each of the quilts is a label letting Holden guests know where the quilt came from, complete with a photo of some of the assemblers.
Thanks to generous donations of fabric, funds, and labor, four Holden beds will be covered with Bethany quilts that should warm guests for years to come.