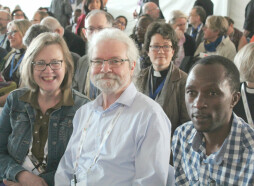 Good morning, everyone
Did you know that Bethany has four members who soon will be in Namibia to work with other Lutherans and to attend the Lutheran World Federation assembly? This coming Saturday and Sunday during worship, myself, my husband Lloyd, and Dave and Trish Siburg will be blessed as we make final preparations for our visit. Thanks to Pastor Paul for doing that.
As chair of the Namibia Task Force of the Southwestern Washington Synod, I will lead a small team that will advance and sustain a longstanding ELCA companion relationship with the three Lutheran church bodies in Namibia. Besides Lloyd, members include Deacon Linda Walker of the New Jersey Synod and Stephanie Haselwood Armstrong of Elim Lutheran Church of Port Orchard. We'll first attend the assembly, which celebrates the 500th anniversary of the Reformation. We then will visit, worship and plan with representatives of the Evangelical Lutheran Church in Namibia. After a safari at Etosha National Park, we'll do the same work within the Evangelical Lutheran Church in the Republic of Namibia. We'll visit Paulinum seminary. And, we'll give a formal greeting to the German Lutheran church. We hope to meet with a couple of key government officials. After that, we head to the German colonial town of Swakopmund on the coast.
The Siburgs will attend the assembly, and then take off on their own for a visit with the indigenous San people.
Please pray that all of us are good global representatives and that we are effective in furthering our companion relationship. Please pray for our safety in that vast desert country just north of South Africa.
Rachel Pritchett

P.S. Here's a photo of a malnourished boy I took in Namibia in 2010. I've thought and prayed for him many times since.