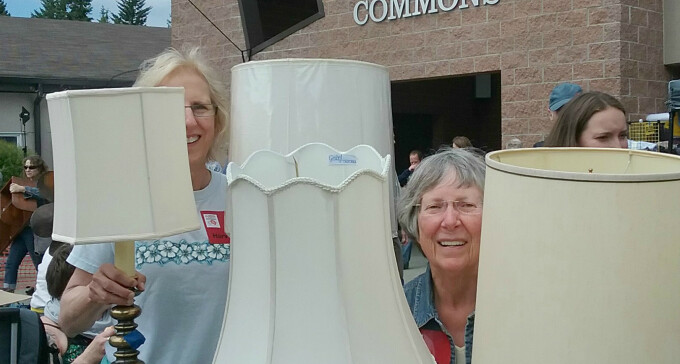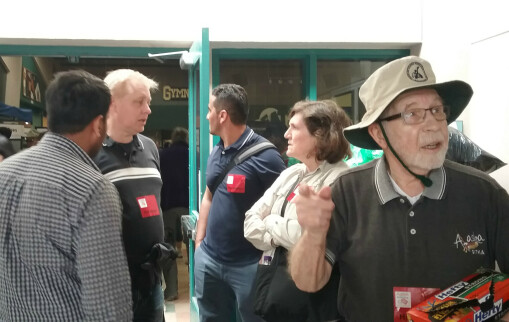 By Dick Heine
Saturday, July 1, was another really successful day of harvesting items for refugees, from the Bainbridge Rotary Auction and Rummage Sale. We've filled two storage areas at Bethany, and a Lutheran Community Services Northwest van was filled with items already delivered to refugees. The van delivery included three couches, and were selected (for free), by John Forseth.
Other members from Bethany, Eagle Harbor Congregational church, and LCSNW Refugee Resettlement and placement team included:
Bethany
Pastor Paul Stumme-Diers
DeMar Sather
Nancy Wetzler
Dick Heine
Alice McCain
Jeff Jensen (with truck)
Mary Jensen (again, with truck)
Dawnae Whittlesey
Brighton Whittlesey
Tim Carlsen (with truck)
Mason Carlsen
The Deines' truck was also in standby, but not needed.
Eagle Harbor Congregational Church
Barbara Chrisman. (Sharon and her truck that was also available if needed)
LCSNW Refugee Resettlement and Placement team
John Forseth
Abdul Ahmadi
Saleem Kahn
Fasil Toryalai
Emron and nephew
John Forseth had identified a need for end tables, lamps, linens and pillowcases, plus items to fill out kits. Pastor Paul cross-referenced the kit items with the map that the Rotary Auction had provided. John also identified, at the auction, other items that would be very useful for a refugee family. John also indicated that 50 families had arrived or were going to arrive in June and July of this year! So the need keeps on! John said, "Thank you for all the team did! Amazing effort with great results!" Thank you, John, for the plastic bins for refugee items!
The team selected items, and "stored" them at the curbside of Woodward Middle School parking lot. We then had trucks cycle through and loaded the items for transport to Bethany. The van contents supported the cargo trips to Bethany but also took items directly to refugees.
Frankly, it was a really great team in support of refugee needs. Now the next step is going to be the "Reform (Bicycle) Ride for Refugees" on Aug. 19, led by Allison Pringle. In the meantime, we'll want to organize items into "kits" for refugees.
Pictured at top: Mary Jensen and Marcy Daley of Bethany handle the lamps at the auction on July 1. Items harvested from the auction for refugees.