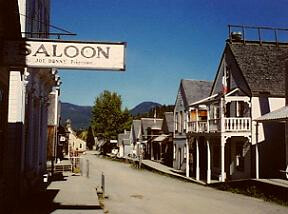 Good morning, Bethanians,
Today's the day for FFF, the monthly gathering of some 18 or so people of Bethany. We'll have a potluck, followed by a presentation by Dick and Cindy Heine on the Northern Cascades. As you know, Dick's a former Navy man, and during his career, he and Cindy traveled all over the world. In retirement, they continued to travel in their motorhome, he behind the wheel and she painting watercolor scenes of places they visited.
Today, the couple will share about a recent trip they took to the Canadian Rockies. Banff, Wells and Barkerville (pictured) are just some of the stopd.
Please join us, and watch the roads coming in. There is water, water everywhere.
Warmly,
Rachel Pritchett
P.S. What does FFF stand for? Darned if I know, but the best guess is "Footloose and Fancy Free.)