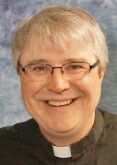 By Pastor Paul Stumme-Diers
Dear Bethanians,
In 1969, our family took a summer long trip to Cuernavaca, Mexico, where my father studied liberation theology under the tutelage of Ivan Illich. I was 8 at the time, so my memories are limited to watching the moon landing, seeing Aztec Stadium the summer after the 1968 Olympics (where the greatest individual athletic feat of all time took place … Bob Beamon's long jump), Teotihuacan, etc.
But for some reason I also remember an advertising campaign that was omnipresent, especially for tourists. Everywhere we looked there were signs thatsaid, "Si, Sanborns!"
It is strange how the mind works, and perhaps especially so when it comes to my mind, but as we prepare to bid farewell to Dave and Trish Siburg, as they make their move to Nebraska, that phrase come to mind, with a twist: "Si, Siburgs!" I think this is because, like in the Mexican advertising campaign, the Siburgs have been everywhere when it comes to the Bethany community.
- Dave and Trish (and Tamara) have been faithful members of the Bethany Choir, setting a faithful tone with their faithful resence, and melodic voices.
- Trish has been a constant for Bethany in providing piano accompaniment, especially for our Saturday evening worship. She and Dave would arrive early and stay for fellowship after worship … and then be back at worship the next morning to sing with the choir. I am grateful for Trish's patience with a pastor who would sometimes change things around, or not think things through. Truly a gift!
- Dave and Trish were present at the special functions of the Bethany community, from FFF to special worship services. I could always expect to see the Siburg's Sebring in the parking lot.
- Dave and Trish were always generous in sharing their home and their family with their extended family here at Bethany. Their children (especially Tamara) were a regular presence at Bethany, and quite often they would host parties in their home in Poulsbo. When the choir was imagining where to hold a farewell party for them, the first instinct was "Let's have it at the Siburg's" ... no, we didn't, but it was mentioned.
- The Siburgs were also one of the many families at Bethany that value the cross-bridge partnerships we share with the communities to our north, especially First Lutheran/Poulsbo, where they have deep roots and a strong affection.
But the "Si" part of this connection extends beyond the omnipresent nature of their family, and celebrates the "Yes," the "Faith," the "Joy," the "Hope and Love" they exude. In that Spirit, we give thanks for the gifts they have brought to our life together, and with confidence we send them off with a "YES" for what lies ahead, and for the ongoing connectedness we will maintain as friends, and through Christ.
"For all that has been, thanks; for all that will be, "Si, Siburgs." (Which would have been the original quote had Dag Hammarskjold spoken Spanish, and known the Siburgs.)