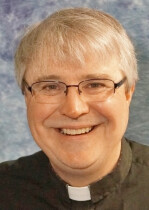 Dear Bethanians,
October 16 is World Food Day. It was established as such by the United Nations in 1979, an occasion etched into my mind when I was a sophomore at Pacific Lutheran University involved in the Bread for the World movement there.
Bread for the World is a faith-based advocacy organization seeking to promote awareness of hunger concerns both domestically and globally, and advocating for programs that help address hunger.
At PLU, Bread for the World took the shape of:
- weekly gatherings to learn of hunger issues and
strategize;
- weekly recycling pick-up, with the financial
poceeds donated to hunger programs; and
- an annual retreat on the coast somewhere with a
PLU pastor to reflect and spend some time away together.
Most importantly, Bread for the World is where I met Laurie Stumme, and where we discovered our common interests in alleviating hunger. I own much to Bread for the World.
And the fight to end hunger continues. Last week, Laurie, in her role as hunger coordinator for the Northwest Washington Synod, along with her team, interviewed and evaluated a number of hunger-related programs in our synod, each which had applied for an ELCA Hunger Grant.
Last Sunday, six Bethany youth set up the 3-mile route for the annual CROP Walk on Bainbridge, then another six Bethanians braved the rain to participate in this walk to address hunger locally and globally.
On Monday, 14 Bethanians spent the day with an equal number of friends from the Church of Steadfast Love, an ELCA congregation serving alongside the homeless at Seattle's Compass Center. In breaking bread together, the importance of World Food Day takes on a human face.
Tuesday, over a dozen quilters worked in our fellowship hall to produce quilts for Lutheran World Relief, bringing comfort to lives ravaged by hunger, disease and displacement.
And at 7 p.m. Monday, Oct. 7, a special event will take place at Trinity Lutheran Church in Lynnwood. It is the opening of the film "Hunger and Hope: Lessons from Ethiopia and Guatemala," with Rick Steves and our Presiding Bishop Elizabeth Eaton as our hosts.
This is the spirit of our congregation and our denomination, to bear witness to our faith and to God's compassion by working to alleviate hunger. As we gather at our family dinner tables, as we gather at holy communion, we do
so in the recognition that every day is World Food Day.