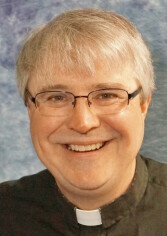 Dear Bethanians,
I invite you into joyful vigilance this summer. I would characterize this as a posture of embracing the gift of joy, while being mindful/watchful/respectful/loving toward our neighbors.
This occurred to me as we were, with great joy and love, caring for our new grandson, Fritz. The joy was absolutely bursting from us, as we gazed for hours upon his sweet countenance. As he slept in his "magic pillow," as he enjoyed the coolness of his changing table, as he sat in his car seat going on an adventure, he held our attention at every moment.
When I held him, I felt myself wrapping my hands around him, making sure he was secure. In the first days, my vigilance, my determination to hold on, probably conveyed to him a certain nervousness on my part. Over time I felt able to relax a bit more and to hold him firmly, yet gently, giving him room to move and stretch and to express his newfound (2 months now) freedom.
Oh, yes, one of many such baby parables to be shared by this pastor, but this applies as well to other dimensions of our life together. Joyful vigilance is that which we exercise in these days when it seems we are moving out of Covid restrictions, and yet…concerns remain for those, especially under 12, who are unvaccinated; when variants, like the Delta variant, are to be considered; and when there are those who remain vulnerable because of their conditions. This is a time to whoop with all out joy! It is also a time to be vigilant in our love for our neighbor.
Next week I will be visiting our new baby great-nephew, who spent some time in NICU. Guidelines are unclear as to what is required as precaution, but Laurie and I are being Covid tested (me for the first time) in advance of that meet-up because I want to be loving and respectful to the parents and baby.
When I joyfully enter stores, even though I am vaccinated I generally continue to wear a mask, doing so out of a sense of respect for the workers who are required to be in contact with so many people. Although I dislike wearing masks, I tap into my reserve of joy, so that my vigilance may be that of love and respect.
"Joyful vigilance" was at play during the "heat dome" days (and nights) we experienced. I was filled with joy at having a cool building in which to work and hang out. In addition, our love of neighbor and its accompanying vigilance invited us to open the Bethany building as a cooling center, which evolved because of the need into an overnight cooling center for the half-dozen people who needed it. From that came fun friendships (people exchanging contact info) and joyous storytelling. We had a guest who grew up spending summers in a lighthouse on Cape Cod!
And joyful vigilance will be our approach to our worship services this summer. We will gather, in person, doing so with great joy, but also striving to be respectful of one another, loving toward our neighbor, as we do so. Nothing will diminish that joy that is ours in Christ, and in our vigilance that joy may well deepen.
Pastor Paul