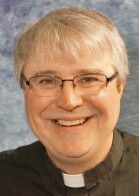 Dear Members of the Bethany Lutheran Church Community,
God's grace and peace be upon you, in this time when our souls especially yearn for God's presence, promises, and healing.
It has been inspiring to see how the Bethany community has been finding ways to connect and to share our love and concerns for one another in this extraordinary time. Social distancing requires us to be apart physically, but the emails, the phone calls, the Facebook posts, the notes and the prayers have continued to bind us together as the church.
The worship services are being streamed on the internet each week, another way we work to stay connected, doing so in tandem with our Lutheran brothers and sisters at First/Poulsbo. These worship services will continue through Holy Week, with all the traditional services of that special time. A folder with Holy Week worship resources is being distributed to each home, so that your journey from Palm Sunday through Easter will be meaningful, perhaps in a special way this year. Bishop Rick Jaech, from the Southwestern Washington Synod of the ELCA, is coming to be filmed as our preacher on Easter Sunday.
The thing we miss out on, however, is the physical connection, the reassurance that comes from being together. We miss the handshakes, the hugs, the blending of our voices in praise of God and in unity with one another. Those in the Bethany Choir ache for the chance to sing together; the Bethany Preschool is eerily silent, except for the teachers who continue to send projects home for their charges; the Monday Women's Bible study met via Zoom; and it appears there is a similar set-up for the "Gather" Bible Study in early April. In the churches in Milwaukee we would hear often that "out of no way, God makes a way." That is the truth into which we are living.
I have been trying to call Bethany households, especially of those who live alone, just to make connections and to keep in touch, but also to see if there are any particular needs that people have. If any needs arise for you or your neighbors, please let us know at Bethany (206-842-4241) or call me on my cell (206-601-1255). One particularly difficult situation has been for those in care facilities, or in the hospital, (and now, even in our homes) where we are unable to visit those who are sick or especially lonely. Your prayers and special gestures for those in such circumstances are appreciated.
God will make a way.
Pastor Paul