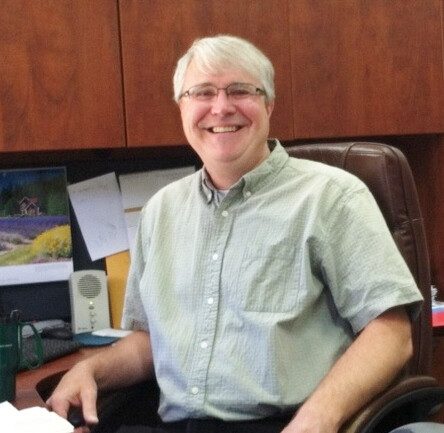 By Pastor Paul Stumme-Diers
Dear Bethanians,
There are those on Bainbridge Island who have beautiful waterfront views, or who have a vantage from which they see the Seattle skyline, and others who overlook the majestic Olympic Mountains, but I have the best view on the island. As I look out my office window onto our columbarium here at Bethany, I am blessed by the landscape architecture of Sid Malbon, I am inspired by the St. Francis sculpture gracing the grounds, and I feel accompanied by the saints who are at rest there. All of this with the backdrop of Douglas Fir trees and Madrone/Madrona trees, the occasional eagle and the more regular deer, it is quite a setting. Add to this the music that finds its way out from the sanctuary, and the prayers that inhabit this space and this community, and we have a sacred space, we are on holy ground here at Bethany.
We are having a blue-skied late September week, with the sun highlighting the beauty by day, and a full moon accenting this splendor at night. This is my favorite time of year, with the changing seasons, producing splashes of red and orange to contrast with the blues and greens. This is also a time in the church when we have permission to deviate from the church-season calendar (the Pentecost season is now in its 19th week) and to consider the "Season of Creation." We will do some of this in worship for the next few weeks, celebrating the glory of God's creative handiwork, and with this joy also recognizing our stewardship of this incredible planet.
Our celebration of the "Season of Creation" is not limited to our worship, nor even to our spectacular setting here at Bethany, but is an opportunity to venture out into God's beautiful creation to immerse ourselves in its gifts. Just last Saturday, Bethany families gathered at Battle Point Park to play, to ride bikes, to eat and be together. The next day, a dozen Bethanians set up and participated in the 3-mile CROP Walk to fight hunger. Yesterday, 20 of us went to the Chihuly Garden and Glass in Seattle, and saw the interaction of human creativity with God's illumination (both literally and figuratively). The fact that we visited that exhibit with men and women from the Compass Center brought new dimensions to our experience. This Saturday (9/29) there is an outdoor party at Helpline House, celebrating 50 years of serving the social service needs of our island.
Join us in seeing the beauty of God's world with new eyes, and together celebrating this "Season of Creation" in worship, in relationships, in play … In joy.