Life Together Newsletter
June/July 2017
From The Pastor
Be Ready to Make the Case

Dear Bethanians,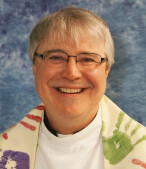 Every Sunday morning (and Saturday evening) is the convening of the "defense" of our faith – the articulation of our faith through prayer, praise, the Word and Sacraments – through our gathering.
These are the marks, the disciplines of those who are the "apologists" for hope in Christ. That is what is central; that is the touchstone for our week, for our lives.
I say this as a reminder of the importance of regular worship – thank you for your faithfulness in all things – of prayer and generosity and service. And thank you as well for the other "accounting for the hope that is in you." A great list of these "accountings" has accumulated of late:
The faithful Sunday-school teachers who nurture our youngest each week.
A phone call I received last week, beginning with: "I am not a part of any faith community, but I have a passion for assisting refugees. Bethany clearly has that spirit as well."
Attending a city of Bainbridge Island council meeting where high school students gave a presentation on affordable housing needs on Bainbridge, and in the next breath hearing the desire of the council to have faith communities work to help meet this need – and realizing they were talking about Bethany.
Enjoying the lush beauty of the landscape around the Bethany facilities – such beauty gives testimony to the glory of God's creation, and builds my hope.
Gathering with high school students at Holden Village around the theme of "Resurrection" and my accounting for our hope propels me into our faithful future.
The efforts of our Refugee Resettlement Team providing an ample accounting for such hope, as we gear up for the gleaning at the Rotary Auction to furnish households for anticipated refugees.
The hospitality of our space, used by so many nonprofits for the up-building of our community and the individuals that comprise it.
The excellence of Bethany's music, as we celebrate the conclusion of another season of the Bethany Choir, and look forward to a summer of joyful special music.
Always be ready to give to anyone who demands it an accounting of the hope that is within you. Our hope is, of course, in Christ, but we catch glimpses of the activity of the Holy Spirit as we look around and celebrate our life together. Who knew accounting could be so joyful.
Thankfully,

Pastor Paul
---
Special Feature --
"Did you have a wonderful time in Namibia?"
By Rachel Pritchett


"Did you have wonderful time in Namibia?"
I struggle with that question. When faced with grinding poverty at every turn, how could I ever have had a wonderful time?

We had what I hope was a productive time. As chair of the Southwestern Washington Synod's Namibia Task Force, I led a small ELCA team on a recent trip to greet and get updates from our three official church companions in Namibia – the Evangelical Lutheran Church in Namibia (ELCIN); the Evangelical Lutheran Church in the Republic of Namibia (ELCRN); and the German Lutheran church (ELCIN-GELK). My team listened long and hard to our partners.

Now we'll begin fundraising in the Southwestern Washington Synod and other synods involved in the relationship based on the needs our friends shared with us. If we're successful, then the trip indeed will have been wonderful.

Getting that information wasn't easy. First you fly to the ends of the earth. Then you drive miles upon miles through the dusty, bumpy desert to see someone, continually slamming on the brakes as big herds of goats and donkeys flow across the road. At the end of the day, you cough the Namib desert out of your lungs.

But there's no substitute for getting information that's timely and accurate. The only way you can do that is to make these trips. Here's what we found out:
ELCIN: Our dear old friends and our biggest partner asked us to refocus on a new sewer system for the church's Oshigambo High School, a longstanding school – one of the best in Namibia – that produces Namibia's future leaders. They also asked us to support the synod's extensive braille-printing endeavor. Many Namibians are blind, one result of the AIDS-HIS virus. ELCIN prints textbooks that are used to train blind people in occupations. They also asked us to help us with an expansion of ELCIN's part of the busy Onandjokwe State Hospital. Lastly, they need us to identify an IT person to help with a computer program that would link the ELCIN office with its 150 congregations. See me if you're interested. It's a sweet deal.
ELCRN: Many of you met Bishop Ernst Gamxamub when he visited Bethany last May. He asked us to step in with support of that synods 19 longstanding hostels. A hostel is a place where children from outlying villages come live and get an education. A group that was helping them disbanded. It's pretty dire; these children are going very hungry.
ELCIN-GELK: We extended a formal greeting to this small German church body comprised of affluent whites. Because of its past participation in apartheid, we agreed to look to the future.
PAULINUM SEMINARY: Everywhere we were treated as sisters and brothers. That was very much the case at the beloved United Lutheran Theological Seminary – Paulinum. We learned that this institution that has filled the country with well-trained pastors, is failing. A massive unpaid electricity bill is one reason; the other is that there is a glut of pastors in the country. Talks are underway to perhaps fold Paulinum into theological curricula at the University of Namibia. You cannot imagine how grateful Paulinum leaders were to receive $1,000 from Bethany. This will be applied toward the debt and help move Paulinum into a new form.
PLU: We met up with Dr. Jan Wiess, an education professor from Pacific Lutheran University based in Namibia. We brainstormed ways our work might mesh together. She wants to help us find an IT person for the ELCIN project. We're going to offer to help set up internships for her PLU student in the ELCRN hostels.
All of the above took up most of our two-week visit. But we had time for a little fun, going to the dunes, Walvis Bay and the German coastal resort town of Swakopmund. We drove among the giraffes, zebras, secretary birds and antelope of Etosha National Park.

Please join me in constant prayer for the Lutheran church in Namibia, a country that's only had its independence since 1990.

One morning in the copper-mining town of Tsumeb we about to start another long dusty drive through the desert. I was standing outside the old German hotel waiting for my group. The kitchen had given me far more food to take along for our lunch than we needed. In the black shadows of the bright morning, I spotted a middle-aged man with a cane. He was almost invisible. I hooked the pink hotel bag of food onto his wrist and nodded. I disappeared and watched. He walked over to a park across the street. He reached into a trash bin and pulled out a dark plastic bag to conceal the hotel bag. And then he was gone.

I wish it were all that easy.
---
NEWS --
Jenny Tuthill joins Bethany Preschool teaching staff
By Sheila Jakubik, preschool director
This has been a wonderful and busy spring at the preschool. We are still waiting for the spring-like weather, but the joy and energy from the kids is infectious. If you need a little pick-me-up from the rain and gray, the preschool is the place to be.

Our amazing Bumble Bee teacher, Allison McDonald, has decided to resign.
Over the past two years, she has enriched our 2½ year old program and tailored it perfectly to the needs of our youngest students. Allie has been working on her master's degree in early childhood and will be working on her thesis next year. Along with this, she is the parent of two elementary-aged school children and she is writing her second book. We will miss her, but wish her lots of success as she continues to touch the lives of children.

We welcome Jenny Tuthill as the new teacher of the Bumble Bee class. Jenny comes to Bethany with a wealth of experience. She has taught kindergarten, second and fifth grades and was a reading specialist. Not only will she have two children in the preschool next year, she is the mother of four. She knows a little something about little ones. Jenny is one of those people you always look forward to seeing. She has a big smile, a joyful laugh and a radiating positive attitude. We are excited for the enthusiasm she will bring to Bethany.

It is hard to believe we are nearing graduating another class off to kindergarten in early June. The students are looking and acting so old. We have a few spots left for next school year, and we look forward to more wonderful families joining the Bethany family.
---
Vacation Bible school to take place July 10 to 13
By Allison Pringle and Kathy Dudgeon, organizers
It is with pleasure that we are offering vacation Bible school (VBS) at Bethany this summer. Our theme is "Seasons of Love." During the four days we will focus on four major events in the church year: Advent, Christmas, Easter and Pentecost. The children will participate in a variety of enrichment activities including arts and crafts and games.

Registration includes T-shirt, snacks and activity costs.

The time and dates are 9:30 a.m. to noon, Monday through Thursday, July 10 through 13.

In addition, an ice-cream social will be the evening of the 13th so the kids may share with their families what they have been doing during the week and share the songs they have learned.

Registration is open to ages 4 (must be fully potty-trained and prefer some Pre-K experience) – entering the 4th Grade. We are expecting a great turnout this year so we encourage your family to register early. Registration continues through June 18. The cost is $30 per child, capping at $60 for family of 3 or more children. Scholarships are available.

For more information, you can contact Kathy Dudgeon at If you would like to volunteer during VBS we also would love parents, grandparents and any people wanting an enriching, fun, and spirited time!