From Pastor Paul Stumme-Diers: We can share oneness in Christ at Homecoming

"Come home, come home, all who are weary come home. Earnestly, tenderly, Jesus is calling, calling Bethanians, come home." –– Hymn #608 … sort of

Dear Bethanians,

"Homecoming" generally involves a reunion of people with a common history. It often includes a dance, a meal, storytelling, a football game, a gathering time, often with letters to be read from those unable to attend. It can have a host, one whohas taken up the task to convene people and to provide for a celebration.Bethany Lutheran Congregation is having out "Homecoming" this year on Sunday, Sept. 10. What has traditionally been called "Rally Sunday" this year is our "Homecoming," and it has all the (positive) elements of those high school or college homecomings with which you might be familiar. This is a time for the Bethany congregation to gather, and to welcome our island/North Kitsap neighbors to join us. Bethany's "Homecoming" involves a common history, the oneness we share in being members of the Body of Christ. This is bigger than each of us, or even as our local community, as we gather, as we "come home" to our grounding in Christ along with faith communities around the world. "Homecoming" at Bethany will include the "dance" of God's people in the liturgy, literally "the work of the people" as we gather around song ("Come, Join the Dance of Trinity"), prayer and the Word. Our host is the God who has called God's people together, and presides at the meal of grace. All the elements of "Homecoming" are in place. Homecoming involves reading the letters of those present in spirit but not in person, as each week we read letters from the Apostle Paul (and others) from centuries ago, recognizing the timeless nature of our connections in Christ. Bethany's "Homecoming" involves stories. Just think of the stories around which we gather in the spiriting of coming home:
The Prodigal Son
The Parable of the Good Shepherd carrying home the lost sheep.
The wandering Israelites seeking a home after 40 years in the wilderness.
"In my Father's house there are many rooms," Jesus reminds us.
"Come to me all who labor and are heavy laden, and I will give you rest…"
What other images can you think of?
And finally, Homecoming weekend at Bethany on Sunday, September 10th includes a football game, as the Seahawks travel to the true home of football, Lambeau Field in Green Bay, Wisconsin. The NFL has acquiesced to our demands that this game begin at 1:25pm, after Bethany's homecoming potluck following worship that morning. This is all falling into place; come claim your place at Bethany at "Homecoming" September 10th.

Pastor Paul
---
Sunday school happenings

Sunday school convenes during the 9:30 a.m. service each Sunday starting Sept. 17. There is no Sunday school on Christmas Eve Day, Dec. 24, or New Year's Eve Day, Dec. 31. Sunday school resumes Jan. 7 and continues through the school year. Here are some highlights:

SUNDAY, SEPT. 10
Today is Homecoming Sunday. Following worship, join us for a potluck and activities. This Sunday kicks off our Sunday-school year and welcomes our travelers home.

SUNDAY, SEPT. 17
This is Bethany's first day of Sunday school classes.

SUNDAY, SEPT. 24
CROP Walk takes place this afternoon. Sunday school is at the regular time, and after worship during fellowship, Pastor Paul will lead a mini CROP Walk for the children at church.

SUNDAY, OCT. 1
Third graders receive their Bibles during Bible Sunday. Parents, grandparents and others are invited to mark their favorite passages. This is a group Sunday-school day and children will return to the sanctuary before communion. Members of the congregation are invited to bring their own special Bibles, which will be carefully displayed in the fellowship hall after worship.

SUNDAY, NOV. 5
During our group Sunday school on All Saints Sunday, children will make "Tree of Saints" family trees. Please provide names of family members going back two or three generations.

SUNDAY, NOV. 26
During the start of the Advent Fair, children will make Advent logs and other crafts celebrating Advent and Christmas.

SUNDAY, DEC. 3
We will rehearse for our Christmas program and continue making Advent and Christmas crafts.

SATURDAY, DEC. 9
At 9:30 a.m., we will rehearse our Christmas program. This will take an hour.

SUNDAY, DEC. 10
Bethany's Children's Christmas Program takes place during worship. A birthday party for Jesus will be in the fellowship hall afterward.

SUNDAY, DEC. 17
We'll make Christmas cards to be delivered to at-home members by carolers after worship.
---
UPCOMING EVENTS
Rachel Circle to resume meetings
Rachel Circle Bible study will meet at 10 a.m. Tuesday, Sept. 5, in the fellowship hall. Study is centered on the Apostles' Creed. Study materials are in the library, ready to be picked up.

Altar Guild holds lunch meeting Sept. 6
The Altar Guild will meet at noon Wednesday, Sept. 6, in the fellowship hall. Please bring a sack lunch; dessert will be provided. Nancy Wetzler is the hostess. All are welcome.

Beer passports soon on sale to help Martha & Mary
Area Lutheran churches including Bethany will take part in "Microbrews for Martha & Mary" the entire month of October to benefit the Poulsbo-based care provider. Starting Sept. 10, "passports" can be purchased at marthaandmary.org for $10. Participating breweries will donate a portion of their proceeds from beers purchased by passport holders. Breweries include Downpour (Kingston), Hales (Bremerton), Lovecraft (Bremerton), Slaughter County (Port Orchard), Slippery Pig (Poulsbo), Sound Brewing (Poulsbo), Valhöll (Poulsbo) and Western Red (Poulsbo).

Monday-morning Women's Bible Study resumes
The Women's Bible Study resumes at 9:30 a.m. Monday, Sept. 11, at a member's home. The group will discuss Barbara Rossings' "Rapture Exposed." See Pastor Sonja Selboe for more information.

FAN cluster meeting takes place in Port Angeles
Faith Action Network of Washington holds the Kitsap County/Olympic Peninsula cluster meeting from 11 a.m. to 1 p.m. Saturday, Sept. 16, at Holy Trinity Lutheran Church in Port Angeles. Some from Bethany will attend. Sign up on the bulletin board. Alice McCain has more information. The meeting offers an opportunity to develop input for the upcoming legislative session.

September FFF includes travel presentation
Carlton Anderson is the featured presenter for September's FFF meeting, and he will share images from his many trips to Norway and other countries during his career in the petroleum business. FFF takes place at noon Wednesday, Sept. 20. Sign up in the hallway.
---
NEWS:

Silverdale Lutheran presents the film "Luther"
Silverdale Lutheran Church presents the film "Luther" during a "Luther at the Movies: evening at SEEfilm Cinema in downtown Bremerton at 6:30 p.m. Friday, Sept. 22. Tickets cost $6 if purchased in person at the church, and $6.50 at theater. The 2003 movie staring Joseph Fiennes commemorates the 500th anniversary of the Reformation. Pictured at left: Martin Luther

Bainbridge Island CROP Walk is Sept. 24
Mark your calendars as well for this year's CROP Walk, taking place on Sept. 24. The route starts and ends at Eagle Harbor Congregational Church. Registration is at 1:30 p.m. and the walk starts at 2 p.m. Bethany typically helps in the setup and takedown, and its walkers raise thousands of dollars in the event sponsored by Church World Services. Sponsor packets are available at Bethany. A signup sheet is in the hallway.

National Lutheran Choir performs in Seattle
The National Lutheran Choir leads an evening of singing in commemoration of the 500th anniversary of the Reformation at 7:30 p.m. Friday, Sept. 29, at St. Mark's Episcopal Cathedral. The program is under the direction of David Cherwien. The concert is free. A free-will offering will be sent to the Compass Housing Alliance. More information is at nlca.com. If you would like to sing with the group that evening? Visit

Synodical women's convention to be in Lynnwood
All women of Bethany are invited to the Northwest Washington Synod Women's Convention, taking place Saturday, Oct. 7, at Trinity Lutheran Church of Lynnwood. The theme is "Dancing Through the Waters," focusing on Miriam's story and Exodus 15:20. The Rev. Heidi Fish, Rabbi Yohanna Kinberg and Muslim lawyer Aneelah Afzala will lead the all-day gathering; $40; register at lutheransnw.org.

Steves showcases his film about Martin Luther
Travel guru Rick Steves will give a talk on a film he recently created about Martin Lutheran and the Reformation at 7 p.m. Sunday, Oct. 8, at Holy Spirit Lutheran Church in Kirkland. The cost is $18. Tickets for a reception with Steves at 6 p.m. and the talk are $50. More is at lutheranpeace.org.
---

Congregational meeting set for Oct. 15
A congregational meeting will take place after the worship service on Sunday, Oct. 15, to hear a report from the Land Use Team, and consider proposed changes to the congregational Constitution. Please save the date on your calendars.

ELCA Presiding bishop Eaton to mark 500th
ELCA Bishop Elizabeth Eaton's commemoration of the 500th anniversary of the Reformation in Washington, D.C., will be livestreamed on Tuesday, Oct. 31. It will be titled "Looking Back and Called Forward: ELCA 500." More details will come.

Lutheran Community Services luncheon scheduled
Sunday, Nov. 12, is the date for the annual fundraising luncheon for Lutheran Community Services Northwest. It will take place at the Kitsap Convention Center at Bremerton Harborside, with a social hour starting at 12:30 p.m. and lunch and program at 1:30 p.m. For reservations, contact Julie Malloy at 253-298-9170 or Sign up in the hallway.

Save the date for Lutherwood annual auction
A silent auction and dinner to benefit Camp Lutherwood outside Bellingham will take place at 4 p.m. Saturday, Nov. 18, at Our Savior's Lutheran Church in Everett. Food, fellowship and fabulous auction items are part of the evening. To donate items, phone (360) 734-7952 or email

New worship-assistant schedule in effect
A new Sunday worship-assistant schedule for September, October and November now is in effect. It has been emailed and is posted on the bulletin board. The Saturday schedule for worship assistants remains unchanged.

Person from Bethany seeks one or two rooms
A female from Bethany seeks to rent space in a home on a month-to-month basis starting mid-October and lasting up to 11 months. Storage space is also sought. The person is available for someone older who needs help during the day. Please contact the office.

Make a visit to Bethany's website a daily habit
Look to bethanyofbainbridge.org for daily updates from Bethany. You'll also find a comprehensive calendar of events, testimonials, worship-assistant schedules and much more. Also, check into Bethany on Facebook, also updated daily.

Got a student entering Pacific Lutheran?
Jen Rude, the university pastor at Pacific Lutheran University, invites all new PLU students and families to contact her and get acquainted. She'll share what the congregation can offer your student. She can be reached at or 205-535-7465.

Draft message on rights available
The draft of a social message on human rights is now available for viewing and response on the ELCA website, ELCA.org/Faith/Faith-and-Society/Social-Messages. Suggestions can be sent to The comment period closes Aug. 31.
---

ELCA statement on transgender issue
Condensed from ELCA news sources

In light of recent public events and conversation, it is important to remember the Evangelical Lutheran Church in America rejects all forms of hatred or discrimination. This includes employment discrimination against the transgender community, as stated in "Gender Identity Discrimination," a policy resolution that was adopted by the 2013 ELCA Churchwide Assembly.

"As church together, it's now more important than ever for us not only to pray, but also stand beside all who are facing many forms of prejudice," stated Presiding Bishop Elizabeth Eaton.

"Transgender individuals should not be denied the opportunity to participate in our armed forces. We should honor the courage and sacrifice of all members of our military regardless of their gender identity or sexual orientation and join those who serve in upholding the respect and dignity of each person."

The ELCA is a church that belongs to Christ and Christ's church universal, where there is a place for everyone. The call of Christ's people today is to celebrate the diversity of God's creative work and embrace all people in the spirit of love, regardless of race or ethnicity, economic status or gender.
---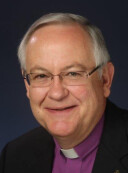 Be willing to try, fail, and try one more time
By the Rev. Kirby Unti, bishop
Northwestern Washington Synod

We are living in a time when change takes place so quickly that even the best laid plans can fail. One of my experiences of this reality took place when we did a $1 million expansion at the church I was serving. The expansion included a new nursery –– complete with sink and running water, separate play areas for infants and toddlers, as well as a crib and nursing rooms.

We were filled with pride and delight the day we opened the new nursery hoping it would send a clear message to families with young children that they were valued by the faith community. The truth was we were attracting young families and our Sunday school was bursting at the seams.

So, what went wrong? Two new trends were gaining traction. The first was an invention. The all-in-one baby carrier. This allows a parent to remove their child from the car and carry them right into the church. Before long the worship space was filled with small children rocking in their bucket seats while the nursery was barely in use.

The second trend that was unfolding was a growing comfort about nursing in public. Combine the two trends and the need for our state of the art nursery was greatly lessened. Should we have seen it coming? Could we have seen it coming? Perhaps, if we were really tuned in.

What we were tuned into was all the information about how important a state of the art nursery was to young families. The problem was by the time we completed our nursery based on the best current information the world around us had changed.

The truth is this is happening all over the world. Talk to Kodak about film, Blockbusters about video, Swiss watch makers, brick and mortar stores, and Ma & Pa Grocery Stores. All once successful enterprises, they have gone the way of the dinosaurs.

The Living Local Movement that our synod is engaged in takes adapting to change seriously. We believe that God is always up to something new. What we are trying to do by dwelling in God's word is to develop the eyes and ears to see how God is working in our day and time. "Behold I am doing something new. Do you not see it?"

Because we are never 100 percent sure what God is up to we must probe new ideas, new expressions of what it means to be church, new ways to share the gospel. It isn't that gospel that changes. What changes is how we engage it.

Back to the nursery, the lesson we were learning was in order to engage young families we needed to make worship "kid friendly." Welcoming the occasional cry of a baby is to embrace life. Young families often want a more hands-on experience in worship where they are able to worship God through mediums like music, art and dance. Children find joy in being involved in all aspects of the church.

And that "state of the art" nursery? What did we do with it? It continued to be modified and used by those for whom it was still of value. Today it is being remodeled one more time to respond to the growing needs of a population of children with special needs.

I want to encourage all our congregations to be more willing to TRY, FAIL and TRY AGAIN.